Veterinarians
Dr. David Gallagher

DVM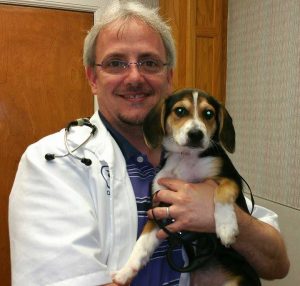 Dr. Gallagher graduated from the University of Florida's College of Veterinary Medicine in 1995 (yes, he's the old man of the clinic). Veterinary medicine is a family affair, as his wife and brother are both veterinarians.
Dr. Gallagher is married and has two children. He is an avid Gator fan and loves college football. When not taking care of pets or children, Dr. Gallagher enjoys woodworking, home renovation, and crafting activities (stained glass is a favorite). He is currently working on restoring a 1975 Datsun 280z, which is similar to the first car he owned.
Dr. Marnie Gallagher

DVM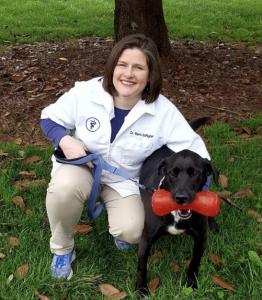 Dr. Marnie Horton Gallagher has lived in the Charlotte area since 1984. She graduated from Independence High School in 1990, attended University of North Carolina at Greensboro and graduated from NC State University in 1995. She received her DVM from Mississippi State University College of Veterinary Medicine in 2002. Dr. Marnie previously worked as a technician at Armstrong Animal Clinic and now is excited to return as a veterinarian!
In 2003, Dr. Marnie married Dr. Dave Gallagher. They currently have 2 children, Jake and Ella, a dog, Darby and a 3-legged cat, Greyson. Her interests include the Human-Animal Bond, geriatric patients and wound care.
Dr. Marnie's passions outside veterinary medicine include her family, gardening and music. She plays the guitar, sings and is part of the Praise Team at her church. And, of course, is a Florida Gator fan by marriage!
Dr. Joey Aquino

DVM
Dr. Joey Aquino was born and raised in a small south New Jersey town called Barnegat. He was enamored by animals from a young age. As a boy, he and his family loved his childhood dog, Mimi. Her presence (and his parents' support) was a major factor in his drive to become a veterinarian.
Dr. Aquino received his bachelor's degree in science from Rutgers University. He received his doctorate in veterinary medicine from Ross University School of Veterinary Medicine. He completed his clinical year at Oklahoma State University, as well as two externships in Kannapolis, NC and West Point, NE. He practiced both in Mooresville and Charlotte for 5 years before happily hanging his hat here at AAC.
Here in Charlotte, Dr. Aquino lives with his (new!) fiance', Chelsea, her brother, Jake, and his two beloved surrendered/rescued cats, Magnolia and Willow. He spends his free time collecting records and going to concerts, working out at the gym, watching the Mets, Hornets and Jets, cooking, and reading.
Dr. Aquino is passionate about endocrine disease, preventative medicine, and forming a cohesive team with pet owners.
Dr. Christine Miles

DVM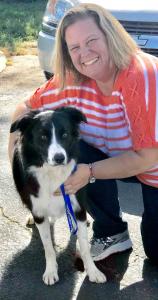 Dr. Miles grew up in many different places – California, Pennsylvania – moving a lot because of her dad's government job. She received her BS from VA Tech, and graduated from VA MD College of Veterinary Medicine in 1998. She moved to Charlotte directly after graduation. Dr. Miles is a true Hokie!
Dr. Miles loves to work with exotics – rabbits, guinea pigs and lizards – as well as having a huge love for dogs and cats. She shares her house with one dog and four cats.
In her free time, she plays on various travel tennis teams, and reading, especially mysteries. She also loves spending time with her niece and nephew (although they live too far away).
#GOHOKIES