Veterinarians
Dr. Christine Miles

DVM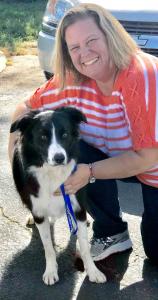 Dr. Miles grew up in many different places – California, Pennsylvania – moving a lot because of her dad's government job. She received her BS from VA Tech, and graduated from VA MD College of Veterinary Medicine in 1998. She moved to Charlotte directly after graduation. Dr. Miles is a true Hokie!
Dr. Miles loves to work with exotics – rabbits, guinea pigs and lizards – as well as having a huge love for dogs and cats. She shares her house with one dog and four cats.
In her free time, she plays on various travel tennis teams, and reading, especially mysteries. She also loves spending time with her niece and nephew (although they live too far away).
#GOHOKIES
Dr. Papillon Collins

DVM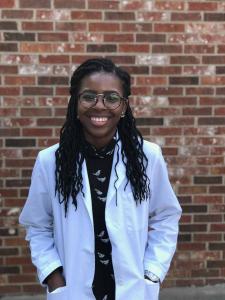 Papillon Collins was born in Virginia Beach, Virginia. Her father being a Naval Chief meant she moved up and down the east coast, however, with both her parents and extended family originating in Macon, Georgia, the south has always felt like home.
Growing up with a wide variety of pets, including turtles, mice, ferrets, and fish, Dr. Collins' fascination with animals began at an early age. She enrolled at Clemson University in 2008 to pursue a Bachelor of Science degree in Animal Science with a Pre-Veterinary Medicine concentration. In 2013 she returned to her home state to attend the University of Georgia's College of Veterinary Medicine. Throughout her education, Dr. Collins developed interest in a variety of areas. Although, if she had to choose a favorite aspect of veterinary medicine it would probably be soft tissue surgery.
Dr. Collins met her husband, LaRon, during their first year at Clemson. They married shortly after she graduated from UGA in 2017. The two currently live in Charlotte, NC with Banks, their 4 year-old mini Schnauzer.
Dr. Collins is very excited to join the Armstrong Animal Clinic family!
Dr. David Gallagher

DVM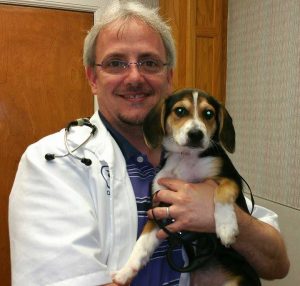 Dr. Gallagher graduated from the University of Florida's College of Veterinary Medicine in 1995 (yes, he's the old man of the clinic). Veterinary medicine is a family affair, as his wife and brother are both veterinarians.
Dr. Gallagher is married and has two children. He is an avid Gator fan and loves college football. When not taking care of pets or children, Dr. Gallagher enjoys woodworking, home renovation, and crafting activities (stained glass is a favorite). He is currently working on restoring a 1975 Datsun 280z, which is similar to the first car he owned.